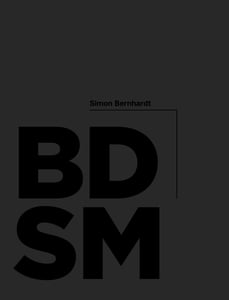 $

135.00
BDSM 2016
Limited Edition of 50 copies -
Signed and numbered
Rubber Hardcover Case Bound -
Stab Sewn
Digital print
24.2cm x 31.7cm
46 pages with 17 colour plates
ISBN: 978-0-9874203-3-6
FOREWORD
Some years ago I was at a friend's home in Sydney's inner western suburb of Petersham. He had a flatmate, a young woman in her late 20s. She was, it turned out, a dominatrix. I knew that because she told me so, and sure enough, that Sunday afternoon, one of her customers arrived, an unexceptional looking man in his 50s, apparently married, and she led him upstairs. While my friend and I sat downstairs talking and drinking tea I wondered what was going on in that little room at the top of the stairs. Well not terribly long afterwards she reappeared downstairs, staying with us for a time and saying very little before going back to finish whatever it was that she'd begun.
I was curious, of course, and titillated, but unconvinced, and if I dared to imagine that I was suddenly privy to the inner workings of the BDSM scene I couldn't have been more wrong. More likely is that she'd seen the opportunity for some easy money, carrying as she did the usual hallmarks of disadvantage- minimal education, social isolation, poor communication skills, and a low self esteem. Apparently she was handsomely rewarded, without having to sleep with him, without a hand being laid on her, and maybe that was the entirety of her interest in the whole affair. It's easy to be misled.
Even the term "dominatrix" is one unfavoured by the real practitioners of the disciplinary arts. Of the participants in this latest exhibition by Simon Bernhardt, the descriptor more commonly used was "dom" or "pro-dom". "Dominatrix" is the vanilla world's take on the role, a term that now seems oddly quaint, and perhaps even newspaper-novelish.
Of course there has been a rather successful novel of late, it needs no more publicity here, that has genuinely raised the ire of all those persons represented in this exhibition. Dismissed as a poorly written historical novel (a "hysterical" novel!), it has been both wildly popular and wildly unrepresentative of the people and culture of BDSM.
Repeatedly, during the photo shoot and interviews that followed, I was told that if you were to isolate the one thing that separates pop-cultural representations from the reality of BDSM, it would be this......Consent. In fact, the three words that came up most often during those interviews were "consent", "respect", and "community". And for a newcomer like me that was eye-opening. Perhaps it was advantageous to have a guy like me, with little knowledge of the scene, interview these people whose portraits adorn the walls of the gallery, the pages of this book, and to have my preconceptions challenged, one by one, by the reality I witnessed with my own eyes. I recall one of the young women being ceremonially bound by her partner, and being struck by the attentiveness, the thoroughness, the care and trust between them. In the precision of the rope placement, and in the practiced artfulness of their assemblage was a kind of meditation, and a kind of devotion. The tenderness between them was obvious. I was quietly moved by it.
Not for a minute do I think that all "play" is as gentle or tame as that, and it is the issue of pain and inflicting pain that is so divisive in the broader community. Within the BDSM community there are regulatory controls on the infliction of pain. Again, it gets down to consent. Consent may be established between two people, or a group of people, prior to any activity occurring. There can be discussions on what type of play will occur, how far to take it, and safe words are usually established. More regular partners may not feel the need to adopt such prescriptive methods, having worked out each others needs and wants over time. Many clubs and organized parties will have their own "house rules" to provide another level of safety for people playing there.
Internationally, there has been a diversity of responses to the issue of consensual pain and resulting injury. I usually think of the Scandinavians countries as being open-minded and progressive. Courts in Norway have ruled that BDSM play not be subject to criminal prosecution. Other European countries have set different standards. Austria, for example, is concerned only with serious injury or death, but in the difficult task of adjudicating on the specifics of "serious injury", they legislated a 24 day period for impairment of one's health. However in many places the line between criminality and legality is indistinct.
In Australia that lack of distinction is still present, and (consent notwithstanding), bruises, cuts and abrasions can still attract criminal charges. But it must be realised that there is a world of difference between a reddened buttock and a broken bone. In a country where the level of domestic violence is shamefully high, frankly we should be directing our outrage more thoughtfully. And it is for this reason that the participants in this project uniformly lauded it as an important one, and a necessary one, to ignite intelligent debate in the community, and to remove the stigma attached to the practice of BDSM.
In this sense, Simon Bernhardt has again demonstrated his willingness as an artist to challenge the stereotypes and prejudices of popular culture. His last book, "Gateway", sought to devolve the antiquated depictions of cannabis users as lazy, useless stoners and 70s era layabouts, and agitated for debate on the burning issue of medical cannabis at a time when the mainstream press were just beginning to report on the great advances and possibilities that it offered. That debate continues, and so too does the promise of relief for the many sufferers of epilepsy, autism and cancer for whom cannabis oil is often their only affordable or successful respite.
As with his previous exhibition, the images here are not timid. No one is hiding in the shadows. Each portrait shows a direct gaze and a self-assuredness that is part realism and part fantasy. The cerebral dimension of sexual experience is celebrated in these images. The largest sexual organ, the brain, is what finally holds sway over the accoutrement of play. If beauty can be in the beholder's eye, so too can fear, excitement, arousal, apprehension. For all the boobs on display, it's the eyes that I can't ignore. There is confidence there, and honesty, brazenness and perhaps a wicked sense of humour.
There is no doubt that the images in this book are confronting. They are intended to be. But they are intended to confront our suburban slumber too, and our delicate sensibilities can take it, I'm sure. The truth is that there will be people out there who are more frightened by the sight of a burqa than by anything on offer here!
Other cultures, older by far than our own, have a long history of BDSM. Japan is such a one, and yet has the lowest incidence of sexual crimes of all industrialised nations, alongside a long tradition of bondage pornography.
Australia is such a young country, and like a gangly youth we are growing too fast for the likes of some people. I tell my 5yo daughter that I'd prefer that she stop growing, that she's as cute as a button, and that I like her just as she is. She replies, of course, that she can't stop even if she wanted to! She's right, and so I hope instead that she'll have the kind of life that I can't begin to dream of for her at this point in time.
The times are a-changing man, and there's no turning back. Marriage equality is on the table. In the US it's already legal. You'd imagine that it is a matter of time before we follow their lead. Same sex unions are already afforded a de facto status, and a plebiscite on the issue is due some time in 2016. Meanwhile Uruguay was the first country to legalise marijuana in 2012. This month the world woke to the news of the Paris Climate Change Agreement. The Cold War ended. The wall came down. Australia had our first ever female Prime Minister, and America it's first black president. Things that seemed impossible....... happened. To decriminalise certain behaviours that are the domain of BDSM seems like the natural path for a progressive liberal democracy such as ours. And why not?
We are all constantly revising our idea of "normal". BDSM may not be mainstream, but don't doubt that so-called "vanilla" sex has elements of domination and submission too. Creative play is central to all good sex, and role play is a legitimate sexual activity. No evidence exists to support the idea that it encourages violence, domestic or otherwise, and some commentators have remarked that the level and sophistication of communication inside a BDSM relationship actually proved beneficial. To draw spurious conclusions about the character of participants in the BDSM scene is to engage in a fight to deny people the right to practice safe sex in the privacy of their own space, in the company of like-minded people, with that most important of provisos......consent.
Ian Murdoch